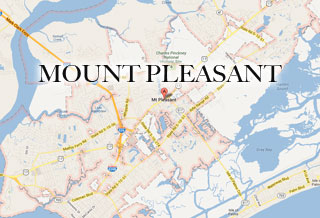 Reviews
Appliance Repair-Charleston Review

Review of Appliance Repair-Charleston
"I can say that so far this is the best service we have ever had! We called last week because our refrigerator stopped working. The repair man from Appliance Repair-Charleston came within few hours and diagnosed the problem quickly and correctly. In two hours time, he had our refrigerator running like new! What a great company! I would recommend Appliance Repair-Charleston to anyone."
Appliance Repair Service in Mt. Pleasant
Date published: 10/17/2012
More Reviews
|
Leave a Review
Appliance Repair-Charleston provides prompt, professional Mount Pleasant appliance repair.
From the historic streets of the Old Village to the sprawling estates of Charleston National, we provide appliance repair and service to all areas of Mount Pleasant, SC.
Appliance Repair Mt Pleasant
We provide repairs and services for all major brands of appliances including Kenmore, GE, Hot Point, Frigidaire, and many more at reasonable rates. We have been providing Mt Pleasant appliance repair for over 30 years now, which gives us not only experience, but expertise as well. Appliance Repair-Charleston is locally owned and operated and dedicated to providing prompt appliance repairs, quality workmanship, and satisfaction to our valued Mt Pleasant customers, both residential and commercial.
Our friendly and professional staff is ready to listen to you and offer solutions that fit your situation. Our technicians are experienced, knowledgeable, and prepared to exceed your expectations. Come join the long line of our satisfied customers who have come to rely on our services over the years.
Call Appliance Repair-Charleston.net today at for more details or to schedule your Mt Pleasant appliance repair.
Refrigerator Repair Mt Pleasant
One of the hardest appliances for a home to be without is a properly functioning refrigerator. We deliver top quality refrigerator repair in Mt Pleasant and it's many neighborhoods. Our customers can be assured that their fridges are in good hands with our trained technicians.
Refrigerators are complicated machines and require specialized skills to diagnose and repair and that is exactly what we provide. We are standing by and ready to take your call and get your refrigerator repaired and running properly again as soon as is professionally possible in an environmentally friendly manner.
What is great about Appliance Repair-Charleston is that our technicians are well-qualified to engage in any type of appliance repair or service. Knowing the ins and outs of your household appliances is our job and our mission, we take pride in both. Appliances vary from brand to brand, but our technicians are trained in most major brands on the market with the goal of delivering the highest level of customer satisfaction to all of our customers needing refrigerator repair in Mt Pleasant.
Call 843 568 5936 today.